Places to Visit
Mid Suffolk
Whatever the time of year, there is always something to do here. Owing to the rural character of the area, Mid Suffolk has beautiful, tranquil countryside and picturesque villages making it an excellent location for walking, cycling, riding, a day by the sea or just relaxing. There are also lots of places to visit, including nature reserves, a rare breeds farm, a birds of prey centre and owl sanctuary. If you like shopping, many of the local towns have thriving markets, craft, pottery and antique centres, and independent shops as well as the usual high street stores.
Towns and Cities
Bury St Edmunds
9 miles, 15-20 minutes by car. Bury St Edmunds was once the capital of East Anglia and the town and surrounding area are full of history. It has links to the Magna Carta and many quaint buildings and streets, the Abbey Gardens, St Edmundsbury Cathedral, a busy market and huge variety of independent and chain bars and restaurants. This lovely medieval market town has a warm and friendly atmosphere throughout the year.
Dating back to before the days of William the Conqueror, the market in Bury St Edmunds is one of the most successful traditional street markets in the country today and has over 80 stalls. It takes place on Wednesdays and Saturdays in the Cornhill and the Buttermarket area of the town.
If you're in need of refreshments, why not visit the Nutshell, the smallest pub in Britain!
Norwich
36 miles by road and just over half an hour by train from Stowmarket, Norwich is a city in Norfolk with an imposing medieval Romanesque Cathedral and ornate cloisters. Two imposing gates, St Ethelbert's and Erpingham, lead to the Tombland area, once a Saxon marketplace. Nearby, the Museum of Norwich at the Bridewell traces local history, including a re-created old pharmacy and exhibits on the textile industry. The renovated city centre has a pleasant pedestrian area lined with modern businesses, shops and eating places.
Ipswich
23 miles by road or 10 minutes by train from Stowmarket, Ipswich is one of the region's best shopping destinations. There are also two shopping malls: Tower Ramparts and The Buttermarket. Smaller, specialist shops can be found in Upper Orwell Street, Dog's Head Street and Tacket Street. Much of the town centre is pedestrianised. The city's famous Victorian wet dock area has been undergoing substantial regeneration in recent years and is already an area for homes, education and leisure with further development ongoing. General market is on Tuesday, Friday and Saturday.
Cambridge
40 miles up the A14, around 50 minutes. Cambridge needs no introduction so we won't even try! Suffice to say you're in good company with famous alumni such as Newton, Hawking, Attenborough, Cromwell, Pitt the Younger, Laurie, McKellen, Cleese and Fry. It makes an inspiring day trip from Badwell Ash, and the food and shopping is pretty good too.
Newmarket and Horseracing
Newmarket is an attractive small market town 27 miles from Badwell Ash which, among other things is the home of horse racing. It has been associated with horses and racing since King James I visited the area in 1605 and declared Newmarket the second capital of England. Successive royal family members came to appreciate the flat land as an ideal location for galloping their horses, King Charles I in particular. He visited the town regularly bringing with him a strong love of horses and racing, and it was he who commissioned the first grandstand on Newmarket Heath. Thus the Sport of Kings was born with Britain's first race, The Town Plate, in which Charles II rode his own horse and won (surprise, surprise)! Newmarket hasn't looked back since.
Racing's early administrative body – The Jockey Club – created its home here, and now there are said to be some 2,500 horses training in the town at any one time. If this is your particular fascination you'll be pleased to find the National Stud here, the National Horseracing Museum, Tattersalls Sale Ring, and also the impressive Newmarket Racecourses themselves. You can even watch the horses exercising on the Gallops.
For more information on the racecourses and tours of the National Racing Museum and Stud please see www.discovernewmarket.co.uk
National Trust Properties, Stately Homes and Castles
East Anglia is rich in interesting stateley homes, National Trust properties and castles. Below are details of some of the main sites.
Ickworth, Suffolk, IP29 5QE
A Georgian Italianate palace in an idyllic English landscape. You can visit the house, gardens, parklands, plant and garden shop and café.
www.nationaltrust.org.uk/ickworth
Lavenham Guildhall, Suffolk, CO10 9QZ
The timber framed Guildhall of Corpus Christi tells the story of one of the best-preserved and wealthiest towns in Tudor England.
www.nationaltrust.org.uk/lavenham-guildhall
Anglesey Abbey, Gardens and Lode Mill, Cambridge, CB25 9EJ
Jacobean-style house with gardens and a working watermill.
www.nationaltrust.org.uk/anglesey-abbey-gardens-and-lode-mill
Blickling Estate, Norfolk, NR11 6NF
A complete Norfolk estate with a red-brick mansion and ancient yew hedges set in an extensive garden and historic park in the Bure meadows.
www.nationaltrust.org.uk/blickling-estate
Oxburgh Hall, Norfolk, PE33 9PS
15th Century moated manor house built in 1482 for the Catholic Bedingfeld family. Victorian Gothic interiors with ornate architectural additions. It is surrounded by 70 acres of parkland containing gardens with seasonal interest, streams and woodland walks.
www.nationaltrust.org.uk/oxburgh-hall
Kentwell Hall, Suffolk, CO10 9BA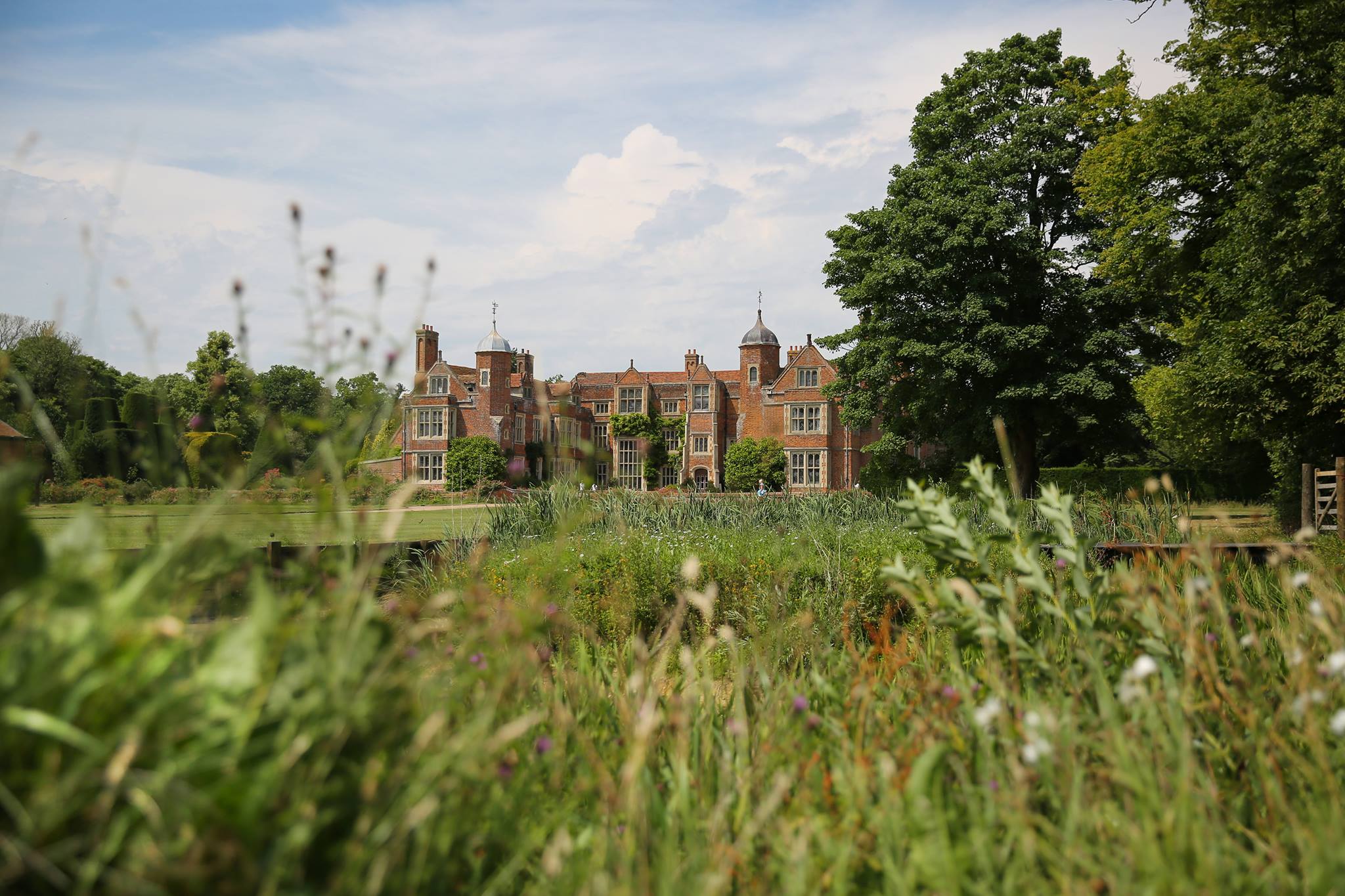 One of England's finest moated Tudor houses, developed in stages between about 1500 and 1578 and very much a lived-in family home for over 500 years. It includes the hall, outbuildings, a rare-breeds farm, gardens and The Stable Yard Tea Room. The gardens are a combination of ancient features, landscaping and planting and include the main front lawns with a ha-ha and wildlife pond. The Walled Garden, with a maze of lavender and a wonderful range of herbs and potage, also has in excess of 60 different varieties of apple and pear trees. The Sunken Garden is undergoing a revival back to its former glorious self. Kentwell Hall has a full programme of annual seasonal events, including its much loved Tudor historical re-enactment days.
Sandringham, Norfolk, PE35 6EN
Still maintained in the style of Edward and Alexandra, Prince and Princess of Wales (later King Edward VII and Queen Alexandra), all the main ground floor rooms used by The Royal Family, full of their treasured ornaments, portraits and furniture, are open to the public. A museum is housed in the old stables and the 60 acre gardens include the formal North Garden, the Stream Walk and Queen Alexandra's Summer house, perched above the lake.
Holkham Hall, Norfolk, NR23 1AB
An elegant 18th Century Palladian style house in Norfolk based on designs by William Kent and built by Thomas Coke, first Earl of Leicester. The house remains privately-owned and is home to the Earls of Leicester. The house is surrounded by rolling parkland with nature trails, cycle and boat hire on Holkham lake and an 18th Century walled garden.
Houghton Hall and Gardens, Norfolk, PE31 6UE
A fine Palladian House built in the 1720s for Sir Robert Walpole, Britain's First Prime Minister and currently the home of the 7th Marquess of Cholmondeley, Walpole's descendent. Situated in traditional parkland, Houghton is home to herds of white fallow and other exotic deer. A 5 acre walled garden includes a double-sided herbaceous border, a formal rose parterre and Mediterranean and kitchen gardens.
Helmingham Hall and Gardens, Suffolk, IP14 6EF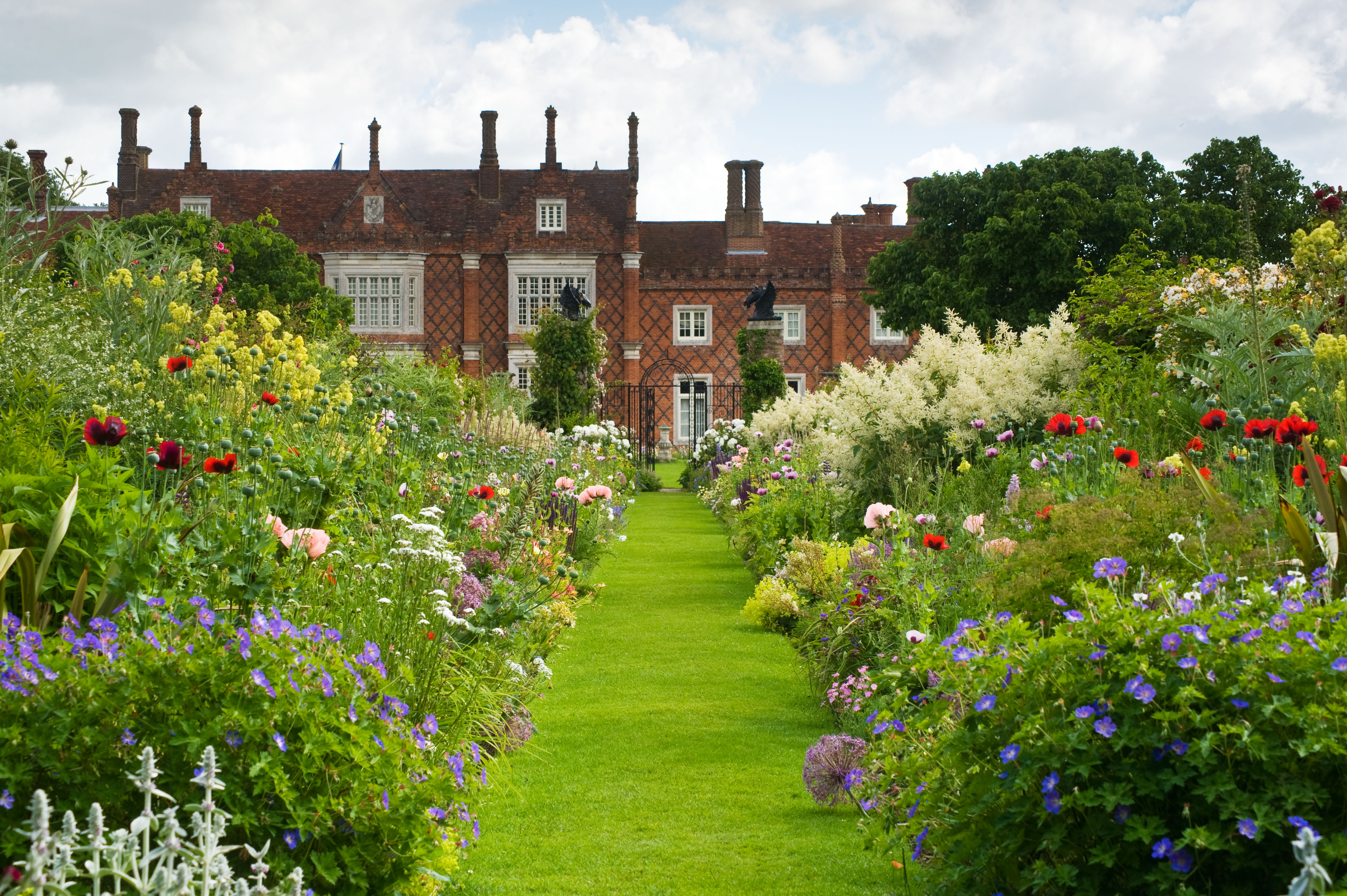 Helmingham Hall is a moated manor house. It was begun by John Tollemache in 1480 and has been owned by the Tollemache family ever since. The house is built around a courtyard in typical late medieval/Tudor style.
The house is not open to the public and Helmingham is best known for its fine garden, which is open on a regular basis. It is a semi-formal mixed garden with extensive borders, a rose garden, a knot garden, a parterre and an orchard. Beyond the garden there is a 400 acre park with herds of Red and Fallow Deer. The Church of St Mary on the edge of the park has connections with the Tollemache family dating back to the Middle Ages. (Photograph credit: Marcus Harpur).
Framlingham Castle, Suffolk, IP13 9BP
A late 12th Century castle built by the Bigods, a powerful Norman family in the 12th Century. Surrounded by parkland and estates, it was once at the centre of a vast network of power and influence under the Earls and Dukes of Norfolk. The fascinating curtain wall walk at 10.5 metres high gives excellent views over the surrounding countryside. Exhibitions and café are also available.
www.english-heritage.org.uk/visit/places/framlingham-castle
Orford Castle, Suffolk, IP12 2ND
The unique polygonal tower keep of Orford Castle stands beside the pretty town and former port developed by Henry II. The castle is remarkably intact, allowing visitors to explore from the basement through the lower and upper halls to the roof where there are magnificent views seaward to Orford Ness. Around the rooms is a maze of passages leading to the chapel, kitchen and other chambers in the turrets.
www.english-heritage.org.uk/visit/places/orford-castle
Gardens
All the National Trust Properties in this region have extensive gardens open to the public notably; Ickworth near Bury St Edmunds, Oxburgh Hall near Kings Lynn, Blickling Estate near Aylsham and Anglesey Abbey and Lode Mill near Cambridge (see above). Other notable gardens are listed below.
Wyken Hall and Vineyards, Suffolk, IP31 2DW
Well developed gardens with quincunx inspired by Gertrude Jekyll, rose garden, kitchen garden, herb garden, fritillary meadow, beech maze and wildflower meadow.
East Ruston Old Vicarage, Norwich, NR12 9HN
Close to the sea this garden has a special micro-climate enabling various exotic plants to thrive.
www.e-ruston-oldvicaragegardens.co.uk
The Beth Chatto Gardens, Colchester, Essex, CO7 7DB
6 acres of intensely planted gardens including her famous Gravel Garden.
Pensthorpe Gardens and Nature Reserve, Fakenham, Norfolk, NR21 0LN
700 acres of gardens and trails including the innovative Wave Line and Millennium Gardens.
Bressingham Steam and Gardens, IP22 2AA
This is where world-renowned gardener and horticulturalist Alan Bloom combined his passion for plants and gardens with his love of steam following his purchase of Bressingham Hall set amidst its 220 acres of grounds. Today, the unique Bressingham Gardens are renowned worldwide for their horticultural excellence. Take a trip on one of the three steam railways; the collection of working locomotives will take you round the magnificent gardens and woodland, or ride on the steam Gallopers.
Historical
Sutton Hoo, Woodbridge, Suffolk, IP12 3DJ
Sutton Hoo is the site of two 6th and early 7th Century cemeteries. One cemetery contained an undisturbed ship burial, including a wealth of Anglo-Saxon artefacts of outstanding art-historical and archaeological significance, most of which are now in the British Museum in London. The site is now in the care of the National Trust. The Sutton Hoo helmet is one of the most important finds from Sutton Hoo.
www.nationaltrust.org.uk/sutton-hoo
West Stow Anglo-Saxon Village and Country Park, West Stow, Suffolk, IP28 6HG
West Stow boasts a remarkable reconstruction of six Anglo-Saxon buildings on their original site, built using tools and techniques from the period. The Anglo-Saxon Centre includes an fascinating display of archeological finds from local Saxon sites.
Special events and re-enactments bring the village to life during holiday periods throughout the year. The 125 acre park and heathland nature reserve surrounding it is rich in wildlife and excellent for bird-watching, with a nature trail, woods, river, lake and bird hides.