Places To Eat
Restaurants
Always best to book as many of our local eateries get really busy
There is a fantastic range of places to eat in our local towns Bury St Edmunds, Cambridge, Ipswich and Norwich. We particularly recommend the following:
The Leaping Hare

Wyken Vineyards, Wyken Road, Bury St Edmunds, IP31 2DU. This elegantly converted 14th Century Suffolk barn on Sir Kenneth & Lady Carla Carlisle's estate is set amongst gorgeous gardens, ancient woodlands, and features a vineyard planted in 1988, which produces good quality white wines. The restaurant is listed in the Michelin Guide and the Good Food Guide. There is also an excellent Farmers' Market every Saturday morning, and they do great pizza at lunchtimes.
Pea Porridge
28 Cannon Street, Bury St Edmunds, IP33 1JR. Very characterful restaurant set in an old bakery, the food is simple and flavourful. Head chef Justin Sharp cooks with local seasonal produce, offers a very good wine list, and can now boost a Michelin Star - the very first to be awarded to a Suffolk restaurant.
The Lark
6A Angel Hill, Bury St Edmunds, IP33 1HP. Really interesting concept of top quality small tapas-style dishes to be shared, but with an English game/meat/fish theme using only local produce. Lively atmosphere in the evening. Our of our new favourites!
Angel Hotel

3 Angel Hill, Bury St Edmunds IP33 1LT. Impressive hotel overlooking the Abbey and gardens. Does fabulous cocktails and its location makes it a great place to start an evening out with a drink, and it also has a strong a la carte menu using a lots of seasonal and country fare.
Queens Bar and Grill
39 Churchgate Street, Bury St Edmunds IP33. Located in the heart of the historic part of Bury this is another great place to start your evening with a cocktail. The hickory and charcoal smokehouse meats are especially appetising.
Maison Bleue
30/31 Churchgate Street, Bury St Edmunds, IP33 1RG. French quality and creativity are the hallmarks here including fresh prime ingredients beautifully presented, just to forewarn the service can be a bit slow.
The Great House Restaurant, Lavenham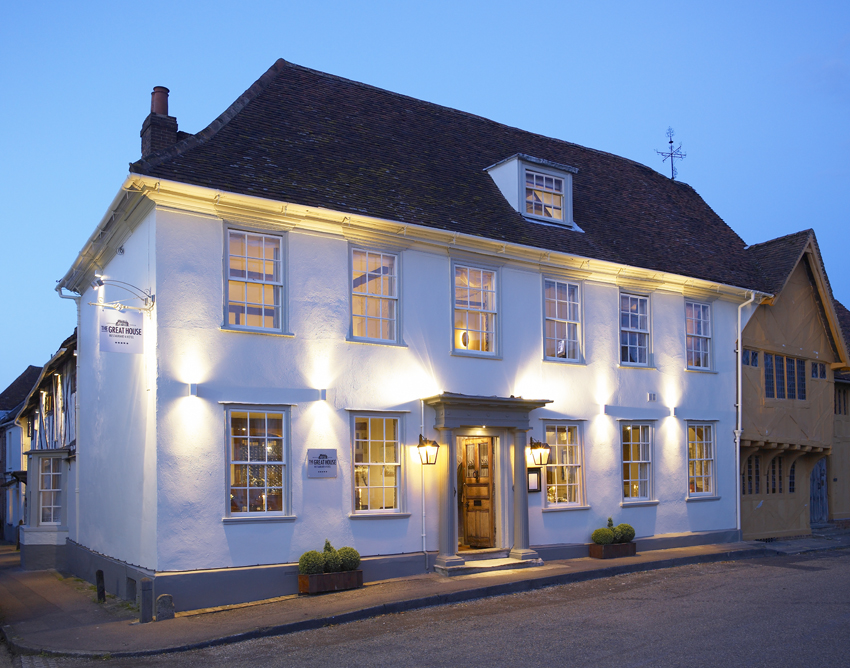 Market Place, Lavenham, CO10 9Q2. This 14th Century period house located in the centre of the beautiful medieval village of Lavenham provides a menu of modern French cuisine. Lavenham itself is well worth a visit. Harry Potter fans will know some of its buildings were used for filming, and there is also a farmers market on Saturdays.
Bars and Pubs
The White Horse Inn

Badwell Ash, just up the road! This is a traditional late 17th century village pub with separate bar, sports bar, and restaurant providing real ale and lunch and evening meals. It does fantastic Sunday roasts. It has benefited from extensive refurbishment in 2020. Sports fans will appreciate the sports bar with large screen TV.
The Dog at Norton
Norton, 3 miles. This is a cosy inn serving high quality locally sourced food from breakfast to dinner, where you are assured good hospitality.
The Bull Inn
Bacton, 5 miles. Rory and his team offer good quality gastro pub food - especially the burgers - and a warm welcome.
The Bull

Troston nr Bury St Edmunds, 5 miles. Ben and Sam bought this pub in 2020 and have had an immediate and positive impact. The menu is interesting, the wine list is impressive, and the garden is awesome in the summer.
The Pakenham Fox
The Street, Pakenham, 2 miles. This is a locally owned free house pub serving cask ales and meals in its pleasant restaurant with lovely outdoor space. Pizzas are served on Friday evenings.